Chain is an essential component of lots of jewelry. If you're like me, there are some types of chain that you like better than others - and not just because of the type of metal used. I never really paid attention before I started making jewelry, but there are lots of different cuts or styles of chain that can lend a distinctive look to your piece. Knowing the styles by name can help cut down on search time if you have a specific look in mind for your jewelry.
Curb Chain


This is my favorite to work with in jewelry applications. The curb chain has links that interlock and generally lay flat. Diamond cut curb chain has angled cuts in the links that allows the chain to reflect the light. It just sparkles. Diamond cut curb chain is what I use with most of my sterling silver chains these days.

See the example below. This delicate garnet necklace features diamond cut curb chain in sterling silver.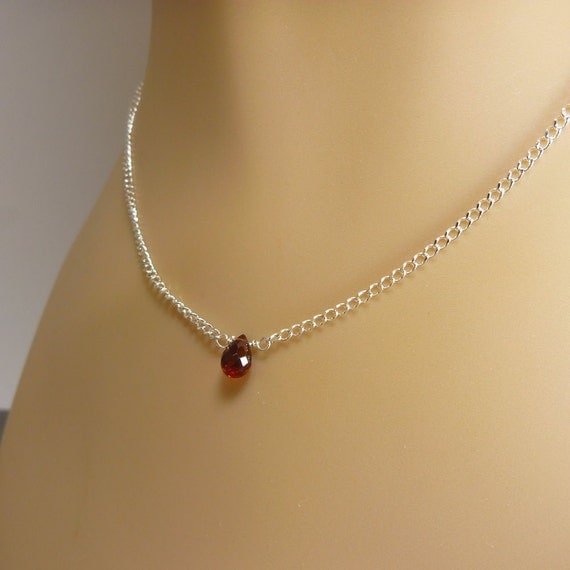 Cable Chain


Cable chain is similar to curb chain in that the links are interlocked, but the pattern is more intricate and dense and doesn't lay flat like curb chain does.

This teal and silver necklace features cable chain. Notice that there are more links and that they interlink in a different pattern. To me, this pattern is pretty but not as delicate as the chain in the curb chain example.
Figaro Chain


Figaro chain often has links of different sizes and shapes (usually 3 smaller links and 1 longer link) that are linked in a repeating pattern. I used to think that all Figaro chain had the same pattern, but I've come to conclude that the pattern itself can vary, but it is the existance of the pattern that makes it Figaro. Figaro chain is distinctive and can overpower a pendant that is too delicate, so make sure to use it when you want the chain to have some pizzaze.

This Heart Necklace uses chain with a Figaro pattern.
Ball Chain

Ball chain consists of tiny balls that are linked together with a straight cast link between them. These are generally inexpensive chains that are popular for use with scrabble tile pendants (for example). Special connectors and end pieces are used with this type of chain.

This Eiffel Tower Pendant comes with a ball chain and is made byKindredSpiritDesign.
Rope Chain

Rope chain looks like it's a rope. Clever, huh? It actually looks like strands of chain that are twisted together. This is strong chain, but just like Figaro, it stands out on its own and should have a strong pendant paired with it or none at all.

This pearl pendant from VintageJunque does the trick and looks lovely with the rope chain.
Snake Chain
And finally, snake chain also looks like a rope, but it is made up of links that give it a bit of a zig zag look - kind of like those wooden snake toys. This chain is less flexible than some other chains because of how tightly the links are intertwined. It is a strong, classy chain.
Norycloset
features a
cameo pendant
with gold snake chain that is a great example of how to use this chain. Notice that the ends for the chain are clamped on rather than a traditional jump ring to connect the clasp.
What type of chain do you prefer? Add your thoughts on other types of chains that aren't described in this post too, if you wish.